April 19th, 2023 – Vancouver, B.C. – Medaro Mining Corp. (CSE: MEDA)(OTC:MEDAF)(FSE:1ZY) ("Medaro" or the "Company") is pleased to announce the results of Phase 1 exploration fieldwork program (the "Program") on its Darlin Lithium Property (the "Property") located in Val-d'Or, Quebec, Canada. The work identified lithium anomalies in soil sampling which the Company plans to follow up during summer 2023 exploration work. The 2022 work program included airborne and ground geophysical surveys, soil and rock sampling and diamond drilling.
Results Highlights:
A total of 209 soil samples were collected during exploration work in the summer and fall of 2022 along two grids located on the Darlin North and South Claim Blocks (see Figures 1 and 2 below).
Lithium (Li) values ranged from less than (<) 15 parts per million (ppm) to 123 ppm, indicating a trend which is extending further to the east and northern part of the Property.
The samples also reflected anomalies of other rare elements such as niobium (Nb), tantalum (Ta), rubidium (Rb), and cesium (Cs).
Results of eight diamond drill holes (see Figure 3 below for location) intercepted larger widths and low grades of lithium, in the range of <15 ppm to 272 ppm, in pegmatites. The lithium intercepts with over 100 ppm Li will be followed up to develop a work program for upcoming 2023 work.
Figure 1: Darlin North Soil Grid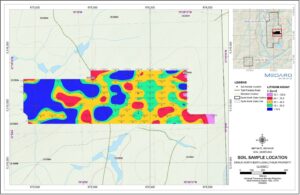 Figure 2: Darlin South Soil Grid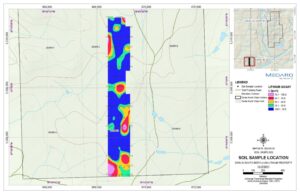 Program Description
The Program was comprised of soil and rock sampling and geological mapping, aimed at sampling, mapping and identifying a group of pegmatites for their potential to host lithium mineralization. 21.83 line-kilometres of ground magnetic and very low frequency (VLF) geophysical survey was also completed as part of the Program. A high-resolution helicopter borne magnetic geophysical survey was also flown on Medaro's Darlin and Rapide claims, the results of which will be reported in a subsequent news release once known.
A total of eight (8) diamond drill holes were drilled with a cumulative drilling of 1,286 metres NQ size core, out which two (2) holes were abandoned at shallow depths of 27m and 33m, respectively, due to difficult ground conditions. The drill holes intersected several pegmatites with varying widths and lithologies.
All rock, soil and drill core samples were bagged and tagged using best practices and were delivered to Activation Laboratories ("ACTLABS"), Ancaster, Ontario for sample preparation and analyses using laboratories code Ultratrace 7. ACTLABS is an independent commercial, accredited ISO Certified Laboratory.  Drill core was logged and sampled at a core shack facility located in St-Dominique du Rosaire, Quebec.
Figure 3: Location of 2022 drill holes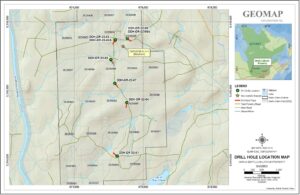 Michael Mulberry, CEO of Medaro, states "I am excited to see another of our 2022 additions to our Quebec Lithium portfolio generating such positive results. As we receive and analyze the soil sampling results from Darlin lithium property, we are increasingly optimistic about the potential of this property. The data we have collected so far demonstrates indications of lithium mineralization, which gives us confidence in the viability of the project. In addition, Darlin's proximity to the Val D'Or area, and all its support contractors, logistically enhances the value proposition of the project. We remain committed to unlocking the full potential of this asset and look forward to continuing to further exploration work in 2023 by extending the soil survey grids".
Qualified Person
Afzaal Pirzada, P.Geo., a "Qualified Person" for the purposes of National Instrument 43-101 Standards of Disclosure for Mineral Projects, has reviewed and approved the scientific and technical information contained in this news release.
On Behalf of the Board of Directors
Michael R. Mulberry
CEO & Director
About the Company
The Company is a lithium exploration company based in Vancouver, BC. And holds options over the Darlin, Rapide, Lac La Motte and CYR South lithium properties in Quebec; and the Yurichson Uranium property in the Athabasca basin Saskatchewan. The Company is a party to a joint venture agreement that engages the Company in the development and commercialization of a new process to extract lithium from spodumene concentrate.
For more information, investors should review the Company's filings that are available at www.sedar.com.
Forward-Looking Statements
This news release contains certain forward-looking statements within the meaning of applicable securities laws. All statements that are not historical facts, including without limitation, statements regarding future estimates, plans, programs, forecasts, projections, objectives, assumptions, expectations or beliefs of future performance, including statements regarding the Company's 2023 work program at the Property are "forward-looking statements." These forward-looking statements reflect the expectations or beliefs of management of the Company based on information currently available to it. Forward-looking statements are subject to a number of risks and uncertainties, including those detailed from time to time in filings made by the Company with securities regulatory authorities, which may cause actual outcomes to differ materially from those discussed in the forward-looking statements. These factors should be considered carefully, and readers are cautioned not to place undue reliance on such forward-looking statements. The forward-looking statements and information contained in this news release are made as of the date hereof and the Company undertakes no obligation to update publicly or revise any forward-looking statements or information, whether as a result of new information, future events or otherwise, unless so required by applicable securities laws.
Contact Information
info@medaromining.com
778-837-7191