May 30th, 2023 – Vancouver, B.C. – Medaro Mining Corp. (CSE: MEDA OTC:MEDAF FWB:1ZY) ("Medaro" or the "Company") is pleased to announce that the CSE has accepted for filing the share purchase agreement (the "SPA") to acquire 100% of the issued and outstanding shares of 1411409 B.C. Ltd. (the "Target"), a company holding a 100% interest in the mining claims comprising the James Bay Pontax Project (the "Project") in Quebec, Canada (the "Acquisition"). The Project is comprised of 101 mineral claims covering approximately 5,800  hectares (58 square kilometers) located in the heart of Lithium-rich Eeyou Istchee, James Bay Territory of Quebec.
The Project is in a highly active prospective zone of James Bay Area, being situated 30 km south of Allkem Limited's James Bay Lithium Project which has a published Mineral Reserve Estimate of 40.3Mt at 1.4% Li2O1.  About 1 km west of the Project lies Stria Lithium Inc.'s ("Stria") Pontax Project, which hosts the Pontax Lithium Showing.  Stria's previous 25 hole, 3,286 meter drill program produced the following highlights; 15.6 m of 1.6%Li2O at 83.9 mts depth, and 4.8 mts of 2.6% Li2O at 19.4 m.  In addition, Brunswick Exploration drilled 18 holes for 3,712 m on its Anatacau West project, neighbouring Allkem's James Bay Lithium Deposit.  Partial results include a 26.5 mt. intercept of 1.51% Li2O.
Figure 1: Medaro James Bay Pontax Lithium Claims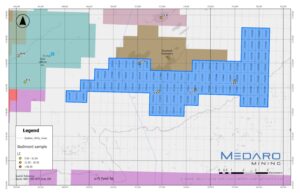 The Pontax project has two other high-profile neighbors.  Patriot Battery Metals Inc. owns a block of 35 mining titles, 6km to the west and has previously announced a proven and probable resource of 37.2 million tonnes at 1.3%Li2O on its Corvette Property. Li-FT Power Ltd. contains the Moyenne Project directly south of Medero's property.  Several geochemical anomalies in Lithium and Tantale were recently delimited from a regional till sampling on this property.
Figure 2: James Bay Pontax Region Map 1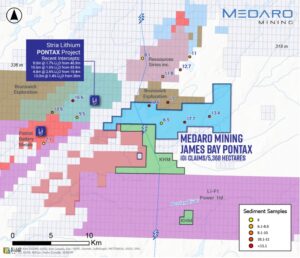 The Project is located in LaGrande Subprovince, close to the boundary with the Némiscau Subprovince. Both Subprovinces are separated by the Causabiscau Shearzone. The Project is underlain with granitoids of diverse composition within which are found dismembered volcanic units that could represent remnants of the Chambois Greenstone Belt.
While the Project has not yet been prospected for lithium, anomalous Li values (up to 17.7 ppm Li) from a regional lake bottom sediment survey (Beaumier 1996)2 are reported on the Project. For comparative purposes, the highest Li value reported on Stria's Pontax Property is 16.6 ppm Li. Most of these anomalous Li values are located at or in the vicinity of Chambois Lake. In addition, high resolution satellite imaging shows an abundance of NE-SW aligned outcrops most notably in the surroundings Chambois Lake. A Hydro-Quebec powerline traverses the center of the Project where a large part of these outcrops are found, which may facilitate their accessibility.
Figure 3: James Bay Pontax District Map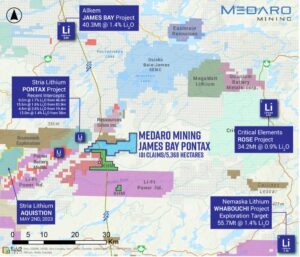 Transaction Terms
Pursuant to the SPA, Medaro has agreed to acquire 100% of the issued and outstanding shares of the Target in exchange for (i) 1,200,000 common shares in the capital of the Company at a deemed issue price of $0.10 per share (the "Consideration Shares") (ii) a cash payment of $7,500 and (iii) a commitment to incur $150,000 in exploration expenditures over the twelve (12) months following closing.
The Consideration Shares will be subject to resale restrictions, contemplating release in three equal tranches every four (4) months following the closing date of the Acquisition.
The Company will also pay a bonus of $150,000 to the vendors of the Target (the "Contingent Cash") if, in carrying out exploration on the Project, the Company intersects five (5) intercepts of spodumene-bearing pegmatite dykes grading a minimum of 1.20% Li2O over a minimum of 1.5 meters.
Michael Mulberry, CEO of Medaro, states "We are very excited to be adding such a significant Project to our stable of projects in Medaro.  The Pontax project will double our footprint in Quebec.  The project is in a very active and prolific area of lithium exploration in Quebec.  The close proximity to our CYR south project will make us one of the more significant land package holders in the area.  Our 2023 exploration program planned for both properties shows our commitment and excitement for both projects, as this  area of Quebec has proven to be a significant area for the exploration of the spodumene in pegmatites grading significant values of lithium and lithium carbonate.  We think the potential for discovery in the Pontax area is huge, as indicated by the interest of many other serious exploration companies in the area.  This will be a significant asset for Medaro."
Qualified Person
Isabelle Robillard, P. Geo, a "Qualified Person" for the purposes of National Instrument 43-101 Standards of Disclosure for Mineral Projects, has reviewed and approved the scientific and technical information contained in this news release.
References
ALLKEM LIMITED – NI 43-101 Technical Report Feasibility Study, James Bay Lithium Project, Quebec, Canada, January 11, 2022, prepared by G. Mining Services Inc.
BEAUMIER, M. and KIROUAC, F. (1996). Série de cartes géochimiques couleur. Échantillonnage des sédiments de lac. Région du lac Nemiscau, ministère des Ressources Naturelles du Québec, Québec, MB 96-22, 33 p.
Michael Mulberry
CEO & Director
About the Company
The Company is a lithium exploration company based in Vancouver, BC, and holds options over the Darlin, Rapide, Lac La Motte and CYR South lithium properties in Quebec and the Yurichson Uranium property in the Athabasca basin in Saskatchewan. The Company is a party to a joint venture agreement that engages the Company in the development and commercialization of a new process to extract lithium from spodumene concentrate.
For more information, investors should review the Company's filings that are available at www.sedar.com.
Forward-Looking Statements
This news release contains certain forward-looking statements within the meaning of applicable securities laws. All statements that are not historical facts, including without limitation, statements regarding future estimates, plans, programs, forecasts, projections, objectives, assumptions, expectations or beliefs of future performance, including statements regarding the closing of the Acquisition, exploration at the Project, and the Company's hopes for the Project, are "forward-looking statements." These forward-looking statements reflect the expectations or beliefs of management of the Company based on information currently available to it. Forward-looking statements are subject to a number of risks and uncertainties, including those detailed from time to time in filings made by the Company with securities regulatory authorities, which may cause actual outcomes to differ materially from those discussed in the forward-looking statements. These factors should be considered carefully, and readers are cautioned not to place undue reliance on such forward-looking statements. The forward-looking statements and information contained in this news release are made as of the date hereof and the Company undertakes no obligation to update publicly or revise any forward-looking statements or information, whether as a result of new information, future events or otherwise, unless so required by applicable securities laws.
Contact Information
info@medaromining.com
778-837-7191